書籍搜索 (又名 DieBuchSuche) - 搜尋引擎的所有的書.
9789881974006-所有書籍都比較每個報價
檔案條目:
50 Awarded Architecture
(?)
ISBN:
9789881974006 (?) 或 9881974003
, 在英語中, 新增功能
加上運費, Sofort lieferbar
50 Awarded Architecture, The book presents 50 remarkable awarded masterpieces all over the word which have been categorised into seven sections: commerce, office, culture, religion, sport, scientific research and industry. Each work is shown by means of highquality photos, detailed plans as well as texts. The book has completely presented the current condition of modern architectural design from various aspects, and discussed the implementation possibilities of the architectural design in different areas and various cultures. We believe that the book will provide the readers with an amazing visual experience and design inspiration.
類別: Bücher / Fremdsprachige Bücher / Englische Bücher
關鍵字: Bücher
從資料 2017-02-21 10:45h
ISBN
(替代符號): 988-19740-0-3, 978-988-19740-0-6
檔案條目: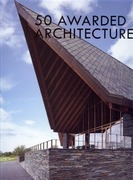 50 Awarded Architecture
(?)
ISBN:
9789881974006 (?) 或 9881974003
, 未知的語言, 新增功能
類別: Bücher > Kunst Musik
關鍵字: ARCHITEKTUR - BAUKUNST ,BAU , BAUKUNST ,ENTWURF , ARCHITEKTUR ,BAUKUNST ( ARCHITEKTUR ) ,ARCHITECTURE , BUILDINGS , GENERAL
從資料 2017-02-21 10:45h
ISBN
(替代符號): 988-19740-0-3, 978-988-19740-0-6
檔案條目:
50 Awarded Architecture

(2011) (?)
ISBN:
9789881974006 (?) 或 9881974003
, 未知的語言, Design Media, 精裝書, 新增功能
Versandfertig innert 3 - 5 Werktagen
50 Awarded Architecture, The book presents 50 remarkable awarded masterpieces all over the word which have been categorised into seven sections: commerce, office, culture, religion, sport, scientific research and industry. Each work is shown by means of highquality photos, detailed plans as well as texts. The book has completely presented the current condition of modern architectural design from various aspects, and discussed the implementation possibilities of the architectural design in different areas and various cultures. We believe that the book will provide the readers with an amazing visual experience and design inspiration. gebundene Ausgabe, 07.2011
類別: Bücher > Fremdsprachige Bücher > Englische Bücher, Buch (fremdspr.)
關鍵字: Architektur - Baukunst#Bau / Baukunst#Entwurf / Architektur#Baukunst ( Architektur )#Architecture / Buildings / General
從資料 2017-02-21 10:45h
ISBN
(替代符號): 988-19740-0-3, 978-988-19740-0-6
9789881974006
國際標準書號號碼找到可用的所有書 9789881974006 比較價格,快速、 輕鬆地和立即訂購。
可用的善本、 用過的書和二手書的標題 "50 Awarded Architecture" 從 Gao, Arthur 完全列出。
die drei fragezeichen und der gestohlene sieg medibuy24